Crown of Midnight by Sarah J. Maas
Genre: Fantasy
Source: Barnes and Noble
Rating 5/5 Stars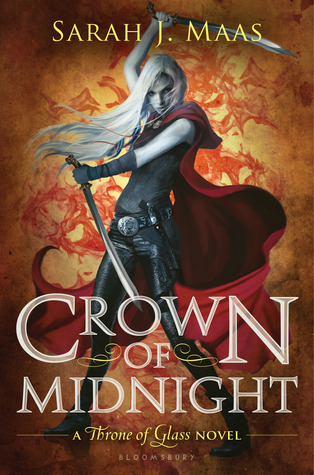 Synopsis: "From the throne of glass rules a king with a fist of iron and a soul as black as pitch. Assassin Celaena Sardothien won a brutal contest to become his Champion. Yet Celaena is far from loyal to the crown. She hides her secret vigilantly; she knows that the man she serves is bent on evil.
Keeping up the deadly charade becomes increasingly difficult when Celaena realizes she is not the only one seeking justice. As she tries to untangle the mysteries buried deep within the glass castle, her closest relationships suffer. It seems no one is above questioning her allegiances—not the Crown Prince Dorian; not Chaol, the Captain of the Guard; not even her best friend, Nehemia, a foreign princess with a rebel heart.
Then one terrible night, the secrets they have all been keeping lead to an unspeakable tragedy. As Celaena's world shatters, she will be forced to give up the very thing most precious to her and decide once and for all where her true loyalties lie...and whom she is ultimately willing to fight for."
Review: Goodness gracious, I loved loved loved the end of this book. I love the fantasy. I love the characters. I love the complexity. I love everything.
Maas's writing style is so great. I'm so absorbed into the world she creates. Celaena's voice shines through and it's just so clear and so Celaena.
Maas's world is fantastic. I love the deception, the courts, the danger. I especially am enamored with the fantasy. It's so well-written and beautiful. It's weird saying that fantasy is beautiful, but Maas's is. There is a back story that actually makes sense (Hallelujah!). Plus, the magic has evolved to fit the terms of the modern world, in comparison to the way that the old magic was used. A lot of what made this book for me was the amazing fantasy.
Another thing that was absolutely enthralling was the plot and characters. They were so great. I cried when Calaena cried. I laughed when she laughed. I felt the confusion and angst. I was totally able to empathizes with the characters and it was fantastic. The plot was a whole other beast. I kept getting shocked and surprised with the twists and turns it took! Poor Aneeqah got many texts from me saying that I wish I could tell her a thing about the book, but I couldn't because she hadn't read it yet.
The romance was better than the first book and detracted a little bit in some of its suddenness.
Overall, I loved almost everything about Crown of Midnight.
How many times did I type the word 'love'? 9