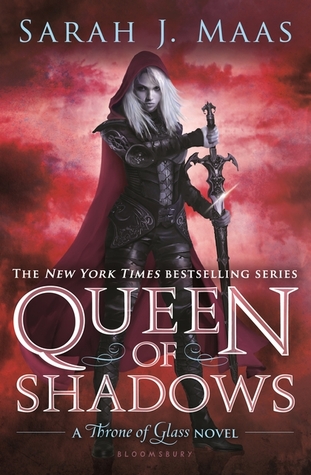 Queen of Shadows by Sarah J Maas
Source: Pre-ordered from Books of Wonder
Genre: Fantasy, Dystopian
Everyone Celaena Sardothien loves has been taken from her. But she's at last returned to the empire—for vengeance, to rescue her once-glorious kingdom, and to confront the shadows of her past . . .
She will fight for her cousin, a warrior prepared to die just to see her again. She will fight for her friend, a young man trapped in an unspeakable prison. And she will fight for her people, enslaved to a brutal king and awaiting their lost queen's triumphant return.
Celaena's epic journey has captured the hearts and imaginations of millions across the globe. This fourth volume will hold readers rapt as Celaena's story builds to a passionate, agonizing crescendo that might just shatter her world.
Queen of Shadows was everything that I was waiting for. I know some people were disappointed, but not this girl!
Okay so, the plot might have dragged a small teeny tiny bit at the beginning of the novel, but it quickly picked up. It was like every chapter would end in some way that was heart-wrenching and then would either be resolved within the next chapter or continued to be a dagger in your heart for the rest of the book until the climax. The ending was a little strange. I thought the book should've ended closer after the big thing (can't spoil it haha) instead of the happy (sorta) ending that drew out a little to show the aftermath. Other than that, I was completely enthralled by the intense plot.
My goodness, the characters. To me, I was really amazed and in awe at the end when I considered what everyone had been through and how each character had changed throughout the 4 books and who they were now. Some people are complaining about how out of character Chaol was, but I feel as if his "new" character was a result of what happened. It changed him. Thus, the character that acts in different ways than in the first book. I would also like to personally thank Sarah J Maas for creating strong female and male characters, side characters alike. Maas has really fleshed out all of her characters in this book.
The suspense, mystery, and action alone would've allowed me to love this book alone. Maas wrote in such a way that we didn't even know everything that Aelin was doing even though she's the main character and we experience her POV quite often. I sorta felt like Aedion when all was revealed.
Adarlan is a seriously corrupted place. Even more is hiding under the surface and QoS was a fantastic way to continue the series. I can't wait another year!
SPOILERS UNDERNEATH
Here, I basically want to fangirl about the characters because why not?
Chaol- Personally, I feel bad for Chaol in general. In HoF, pretty much his whole life was shown to be a lie and a farce. So, Chaol has to redefine who he is as a person and decide what the purpose of his life will be. Plus, Chaol has to figure out how to not be prejudice against this magic. Also, his heart has been ripped out of his chest as his lover has turned out to have magic, which he has a major problem with, and also be the enemy to his best friend's future kingdom, which is basically what his whole life revolves around. Pretty much redoing his outlook on life and trying to fix all of this was really hard for Chaol. I've heard a lot of people complain that Chaol is "out of character," but he isn't. He's just grown to be a different character than he was before, which makes sense with all the above. However, these things do not excuse him from being a complete jerk to Aelin. It constantly grated on my nerves to see them ALWAYS argue when they used to be *so* close.
Aelin- Aelin really grew up. No longer can she be Celaena Sardothien. Aelin had to become the queen she rightfully is. Sometimes, I felt that she could be a little too harsh, but overall, seriously loved the girl power that she was exuding. Also, I thought it was super fascinating to see how different she had become since ToG when she had to act like her old self to claim Arobynn's estate. I never realized how completely different Aelin was from Celaena until then. Plus, it was pretty cool how Maas had Aelin "hide" some of the stuff that she was doing, even though we read Aelin's POV quite often. I can't wait to see how she continues to develop in the last two books of the series.
Lysandra- Lysandra was such a badass. She's amazing, has a fiery spirit, and is determined to make something meaningful out of her life, despite everything that's happened to her. #friendshipgoals
Manon, Nesryn, and Kaltain- I love love love all the girl power in QoS. All these lovely female side characters weren't flat and they weren't boring. Usually when I read books with tons of POVs, I always want to read the main character's instead of side characters. This was not the case with QoS. I totally love Manon. Her character has grown in likeability soooo much since we were first introduced to her.
Dorian- OMG I felt SOO bad for Dorian. His chapters made me INCREDIBLY sad!! I just wanted to save and protect my baby throughout the whole novel. And also wrap him up in a blanket and tell him that everything is okay. Now he has to live with everything he's done, which is UNFAIR because he didn't have any control over what he was doing. #cries
Rowan- yes. that is all.
Aelin + Rowan- I went into this book being a Chaol + Aelin shipper. I came out of it being a Rowan + Aelin shipper. They have so much chemistry and bond so much. It's perfect. I can't really express how much I love their relationship. However, it won't be the end of the world if they don't end up together at the end.
Misc. Notes- THANK GOD AROBYNN'S DEAD. I WASN'T EXPECTING THE WHOLE KING WAS BEING CONTROLLED BY A DEMON THING. PERRINGTON? THE WITCH + WYVERN PAIRS ARE SO CUTE. MAGIC IS FREE!! KALTAIN AND ELIDE??? THE WYRDKEY??
--------------------------------------------------------------------------------------------------------