Rites of Passage by Joy N. Hensley
Genre: Contemporary, Boarding School
Source: Library
Rating: 4/5 Stars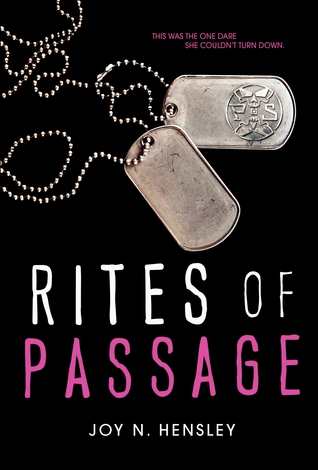 Sam McKenna's never turned down a dare. And she's not going to start with the last one her brother gave her before he died.
So Sam joins the first-ever class of girls at the prestigious Denmark Military Academy. She's expecting push-ups and long runs, rope climbing and mud-crawling. As a military brat, she can handle an obstacle course just as well as the boys. She's even expecting the hostility she gets from some of the cadets who don't think girls belong there. What she's not expecting is her fiery attraction to her drill sergeant. But dating is strictly forbidden and Sam won't risk her future, or the dare, on something so petty... no matter how much she wants him.
As Sam struggles to prove herself, she discovers that some of the boys don't just want her gone—they will stop at nothing to drive her out. When their petty threats turn to brutal hazing, bleeding into every corner of her life, she realizes they are not acting alone. A decades-old secret society is alive and active… and determined to force her out.
At any cost.
Now time's running short. Sam must decide who she can trust... and choosing the wrong person could have deadly consequences.
Reasons to Read:
Sam!! Sam's characterization is very realistic! She has flaws and insecurities, and I commend Hensley for creating such a vivid, life-like character.

Mystery, Intrigue, Secrets galore! This one pretty much explains itself. Rites of Passage was very action-packed and I loved the mystery element to the book. Everything wasn't as it seemed (with the exception of a few obvious twists, but I can forgive :) )

Writing Style Hensley's writing is a really nice blend of character and plot focus. I know that I'm more character based, but this combo was perfect for Rites of Passage

Setting Oh my gosh! I couldn't even begin to imagine going to the Academy. It had a small (I repeat, small) feel of boarding school (which always reminds me of Harry Potter, so good memories!), but also a much more intense feeling than the standard boarding school setting.

SHIP!!! I'm just going to put out there that I'm a sucker for romances. I love them. So, the slightly disturbing aspect of their relationship was that I frequently forgot that they were the same age because he was her drill sergeant. Besides that, the tension and chemistry was absolutely irresistible!