All the Truth That's in Me by Julie Berry
Genre: Mystery Thriller
Source: Library
Rating: 2/5 Stars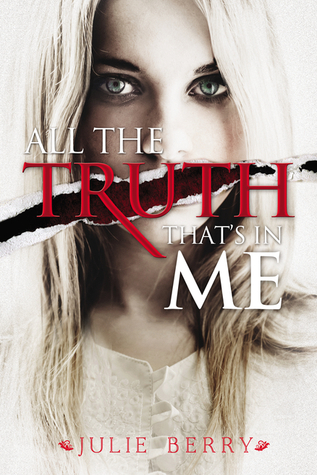 Synopsis: "Four years ago, Judith and her best friend disappeared from their small town of Roswell Station. Two years ago, only Judith returned, permanently mutilated, reviled and ignored by those who were once her friends and family. Unable to speak, Judith lives like a ghost in her own home, silently pouring out her thoughts to the boy who's owned her heart as long as she can remember—even if he doesn't know it—her childhood friend, Lucas. But when Roswell Station is attacked, long-buried secrets come to light, and Judith is forced to choose: continue to live in silence, or recover her voice, even if it means changing her world, and the lives around her, forever."
Review: I'm so incensed by this book. For me, All the Truth That's in Me was a victim of over-hype. I expected an experience extremely different than the one that I experienced.
For starters, I didn't understand the time period. Was it historical, like Puritan society? Was it some other universe? I could not figure it out the ENTIRE book. I ended up settling with a Puritan-like time period because that society was so crazy.
Also, I really really disliked most of the characters. Judith has this weirdly stalkerish crush on Lucas. Before reading, I thought that this would be cute, but when I read it I was highly disturbed. I found her obsessive infatuation with Lucas to be really creepy. Also, I felt like Lucas had no personality, like he was the good guy trope. At points I would think Oh there's a real human emotion! But the majority of the time I thought Could this character be any more dull? The only character I tolerated was Maria because she was just really nice and cheery in that awful oppressive society.
The plot was highly confusing for me. The experiment in telling the story in Judith's voice when she couldn't talk to others to find out what was really going on failed. A lot. I was confused a lot during the book. I didn't even particularly like Judith's voice.
The only good thing I experienced in All the Truth That's in Me was the mystery. The mystery of what really happened intrigued me. I wanted to learn the real truth.
Honestly, I probably wouldn't have finished All the Truth That's in Me if I didn't have to read it for Battle of the Books. The plot was utterly confusing, the characters were dreary and the town and setting were truly terrible.