Heir of Fire by Sarah J. Maas
Genre: Fantasy
Source:Library
Rating: 5/5 Stars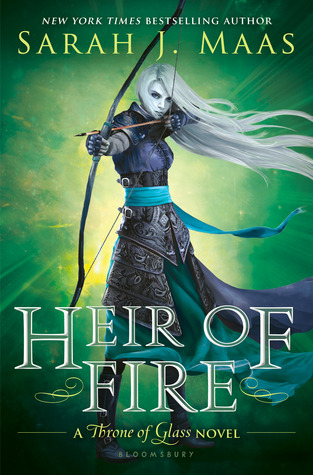 Synopsis: "Lost and broken, Celaena Sardothien's only thought is to avenge the savage death of her dearest friend: as the King of Adarlan's Assassin, she is bound to serve this tyrant, but he will pay for what he did. Any hope Celaena has of destroying the king lies in answers to be found in Wendlyn. Sacrificing his future, Chaol, the Captain of the King's Guard, has sent Celaena there to protect her, but her darkest demons lay in that same place. If she can overcome them, she will be Adarlan's biggest threat – and his own toughest enemy.
While Celaena learns of her true destiny, and the eyes of Erilea are on Wendlyn, a brutal and beastly force is preparing to take to the skies. Will Celaena find the strength not only to win her own battles, but to fight a war that could pit her loyalties to her own people against those she has grown to love?"
Review: Gosh. This. Book. Was. So. Amazing.
Heir of Fire has solidified Maas as one of my favorite authors. Honestly, I loved it from start to finish.
***BEWARE SPOILERS AHEAD***
I know that a lot of people had the complaint that the middle was boring, but to me the relationship building between Rowan and Celaena made up for it. Plus, the whole middle built suspense for the FANTASTIC ending. I was in tears. I screeched. I furiously texted Aneeqah and begged her to hurry up and read the second one and this one so I could talk to her about my feels. The end was one giant plot twist. Every time I thought I had recovered (who am I kidding, I will never recover) from one twist, I was hit with another! My feelings were all over the place. Thank goodness I was home alone when I read this because I'm sure my family would've been really concerned about my mental state. The plot alone guaranteed at least a 4 Star rating.
You know what got the 5th and final star? The bad*** characters. I LOVED Celaena's development. I LOVED Rowan. I LOVED Chaol (okay… more on Chaol later). I LOVED Dorian. I absolutely adore Celaena and she and Tris Prior are tied as my favorite characters of all time. Her development was phenomenal. She finally stepped up to the plate and I might have shed a tear (or ten). Rowan was hilarious. He tried to act like he didn't care, but I saw through his little facade and enjoyed every second of Celaena's and his dialogue. It was pure gold. I want to applaud Dorian for moving on. He deserved better than the Celaena in book two. I can't wait to see the truly magnificent things that Dorian accomplishes (although I don't know how he's going to deal with the ending because man).
Chaol. Oh Chaol. I feel such pity for you. I don't feel like you aren't good enough for Celaena, but you have such an imaginary image of Celaena. Do you love her or do you love the image of her that you've created in your mind?
The relationships in this book were so profound and so good. Also, I felt EXACTLY what the characters were feeling. There are no words except to say that while I was reading Heir of Fire, I was fully immersed in the book. I was there.
Now that I've fangirled about the marvelous characters, let's talk business. I know I've said this in the first two books' reviews, but I need to reiterate it. Maas is a fantastic story teller and world builder. I LOVE the fantasy and how it developed in this book now that we've met actual faeries.
The love I have for this book is astronomical. The ending blew me away and I cannot wait for the rest of the series.
How many times did I type the word 'love'? 9