The Coldest Girl in Coldtown by Holly Black
Genre: Dystopian Fantasy
Source: Library
Rating: 4/ 5 Stars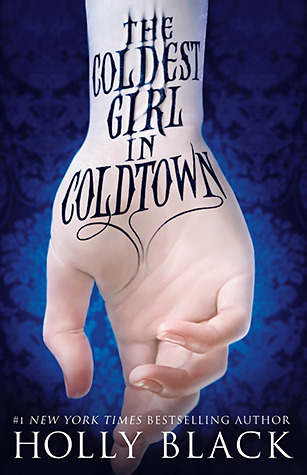 Synopsis: "Tana lives in a world where walled cities called Coldtowns exist. In them, quarantined monsters and humans mingle in a decadently bloody mix of predator and prey. The only problem is, once you pass through Coldtown's gates, you can never leave.
One morning, after a perfectly ordinary party, Tana wakes up surrounded by corpses. The only other survivors of this massacre are her exasperatingly endearing ex-boyfriend, infected and on the edge, and a mysterious boy burdened with a terrible secret. Shaken and determined, Tana enters a race against the clock to save the three of them the only way she knows how: by going straight to the wicked, opulent heart of Coldtown itself."
Review: So I read this book for Battle of the Books since I'm on my school's team. I previously had wanted to read it, but it wasn't at the top of my TBR list (honestly, I have no order to it really). Also, I went into this book thinking that it had zombies in it, which I'm not really into. Obviously, I discovered that there wasn't zombies, but there was vampires.
I have a love-hate relationship with vampires. On one hand, I love fantasy and those sorts of creatures. On the other hand, the whole vampire thing has been so overdone that I kind of don't want to read anymore of it at this point. The Coldest Girl in Coldtown was similar to other vampire reads, but also very refreshing.
"We all wind up drawn to what we're afraid of, drawn to try to find a way to make ourselves safe from a thing by crawling inside of it, by loving it, by becoming it."
I really enjoyed the characters. I think Tana is extremely life-like. She has conflicting emotions and makes a lot of dumb mistakes (but not too many that I want to slap her) that makes me feel like Tana reflects a real person. That's an incredible feat. I know a lot of people dislike Tana because she makes mistakes and is stupid, but I think that her emotions and conflicts were life-like.
Dudes, don't get me started on Gavriel. Yeah I know, he's the typical YA love interest. But I can't resist. I really can't. Also, its made perfectly clear that he has bad intentions and isn't a good guy. Obviously, I can't stay away. Their romance is not a focal point in the book and only exists occasionally, but the slow-burning tension. I felt it building throughout the book.
The relationships were great. The love and dedication within Tana and her sister's relationship was so sweet and so awesome. Also, I loved Tana and her ex-boyfriend's interactions.
Plot-wise, The Coldest Girl in Coldtown was good. Plot twists happened, but I felt little to no suspense. Action happened. Some dull parts happened. Overall, plot was average.
The world building was incredible. It was well-crafted and went hand-in-hand with Black's marvelous descriptive style. I would say that I would want to live in that world, but that would be really frightening. The concept, although not new, is revamped (<- pun intended) to have a fantasy element.
Overall, I enjoyed The Coldest Girl in Coldtown. The characters really made the book for me and I liked the dark and gritty undertones. I'm extremely sad and disappointed that this is a stand alone. I thought the ending perfectly set up the book for a sequel or even a full-fledged series, but ITS NOT. :(