We Were Liars by E. Lockhart
Genre: Contemporary
Source: Library
Rating: 4/5 Stars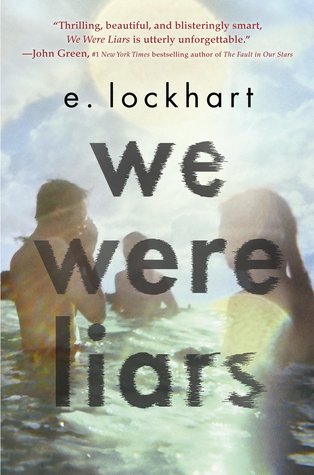 Synopsis: "A beautiful and distinguished family. A private island.
A brilliant, damaged girl; a passionate, political boy. A group of four friends—the Liars—whose friendship turns destructive. A revolution. An accident. A secret.
Lies upon lies. True love. The truth."
Review: There's so many things I want to say about this book, but I can't because it would completely ruin the ending and the magic of the book, so know that I am very limited on what I can talk about.
Man, this book was great. While, I was reading it, I didn't think that it was that great because the plot dragged on and on (despite the book not even being that long). That was until the end. The end changes everything. It changed how I viewed the book and how I saw the plot progression.
Yes, the plot was utterly slow at points (hence the 4 Stars, not 5). I got rather bored with the plot because it felt like same similar things, some of which weren't even exciting, kept happening. For most of the book ( I read it in one sitting), I was highly annoyed by the slow plot. Not annoyed enough to stop reading, though. I wanted to see what was with the suspense. I wanted to see why so many people were praising this book to no end. I wanted to see what the "accident" was. The plot, although slow, actually did drop hints to what happened, it just took finally knowing what happened to realize this. That is some serious writing skills you have there, Ms. Lockhart. I too want to praise this book to the heavens and back.
I absolutely ADORE the writing style. It's romantic, flowy, descriptive, suspenseful, and enchanting. Basically, its magic.
The characters in We Were Liars are UTTERLY despicable. I HATED them with a fierce passion. And then the ending happened. I can't say much else, but bravo Lockhart. Bravo.
To be 100% honest, by the end (because the shock is revealed about 10 or so pages from the end), I was crying so hard that it was very difficult to read. The event made me seriously reconsider the WHOLE book and EVERY LITTLE THING that ever happened in the book. I felt many emotions (I had three very distinct ones, which I cannot disclose). This book is so magical and great and fantastic. Please go read it right now so I can talk to someone about it (side-eyeing you Aneeqah)
I'm very sorry I can't say much else in fear of spoiling the ending. I'M SORRY FOR THIS VERY BRIEF REVIEW. JUST GO READ THE BOOK AND BE AMAZED.